#tasteofkeybiscayne - Simple elegance served with heart at Sushi Siam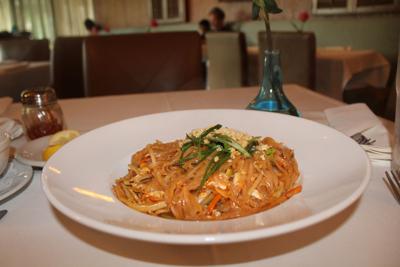 Like the satisfying ingredients in Thailand's national dish, Pad thai, Sushi Siam manager Atipak Kungvol believes in the basics to keep her guests happy: quality food, classic presentation and a huge helping of heart.
"We love everyone who comes here," said Kungvol.
Affectionately known to customers and staff alike by her nickname, Mam, Kungvol says keeping it simple is why guests come back for more.
"Pad thai is a worldwide special food from Thailand. You taste and it is so awesome, so simple…sweet, sour, salty. We cook it with rice noodle, scallion, egg, our special tamarin style sauce, everyone likes it."
Made to order with toppings like tofu, shrimp or vegetables, the steaming-hot generously portioned noodle entree is well accompanied with another fan favorite, King of the Sea Soup. The essential twist of lime on the side balances desired heat and make the flavors soar.
Exquisitely presented sushi smorgasbords delicately laid out on bamboo boat platters that serve up to four, are a Sushi Siam tradition.
"For special holidays people come and order boats, lots and lots of boats," said Mam. "You can have the fish slice, or on rice, with sesame, seaweed, cucumber…sushi, sashimi, and roe combinations."
For the few who have yet to experience the well-established Thai-Japanese restaurant accented in white tablecloths and fresh roses on 632 Crandon; a pre-arrival online menu review is suggested as the options are tantalizingly vast…and sometimes include that rare catch; Uni.
Where are you from?
Banghkok, Thailand
Where do you live now?
North Miami Beach
How did you get your start in the culinary industry?
I had experience in Thailand and started working in the kitchens at Siam in 1999. I started in Miami Lakes 17 years ago. I'm in Key Biscayne three years now.
What is your secret to success?
We serve with heart. I want our customers to leave happy and come back again. The quality of food, everything clean, we put in the frame of the best we want for ourselves. We make them happy and they come back.
What is the proudest moment of your career?
We are so proud to be a part of this community. We try to serve the best we can and present the food the best we can, to make everyone happy. We very much appreciate our special guests. Recently we had our back room full with over 50 people.
If you had to choose one meal at your restaurant, what would it be?
I love something spicy like King of the Sea Soup. I like the hot temperature, with the quality of the herbs, especially the chili makes for good digestion. I love ginger, and meals with ginger sauce. My favorite dessert is the Banana Tempura, we fry it hot and serve with cold vanilla ice cream, very good!
What is your favorite junk food or comfort food?
Ice cream
What do you like to do in your free time?
I love cooking and I love eating!
What's your favorite part about working in Key Biscayne?
It's so peaceful and beautiful. I love the people and how safe it is here. At night time you see kids walking around and it is okay…everyone here is high scale.
What is your advice for someone just starting out in your profession?
I always tell my staff the customer is key to everything. Our business depends on them. We do everything for the customer, they are our business. Always give your sincere best.
Sushi Siam is open 7 days a week. Monday to Thursday 11:30 a.m. to 11 p.m.; Friday 11 a.m. to 12 a.m.; Saturday 1 p.m. to 12 a.m.; and Sunday 1 p.m. to 11 p.m.