41st Annual Key Biscayne Lighthouse Run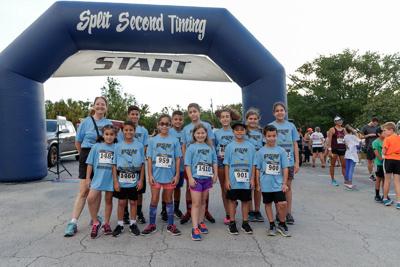 A friendly neighborhood call out from the organizers of the Lighthouse Run
By Raquel Garcia
Island endorphins will be at an all-time high come Saturday morning November 10th at 7:40am sharp, when Mayor Mayra Lindsay will fire the ceremonial canon at Bill Baggs State Park to start the runners off at the 41St Annual Key Biscayne Lighthouse Run.
The anticipated 1,000 or so runners will begin to flock together as the sun breaks at the base of the Cape Florida Lighthouse. Stretching their arms and legs in a slow sinewy dance like so many sleek tropical birds plumed out in neon pinks and greens…with water bottles and technological devices velcroed to their extremities.
This revered ritual of timed extreme physical exertion while enjoying the neighborhood sights with a community of friends and supporters-and a refreshingly fun park party after-requires interested participants to register before the Friday November 9th at 5pm deadline.
Neither age nor fitness level need deter anyone from signing up. Walkers are welcome to stride comfortably at their own pace. Last year's youngest participant was 4 years old and the eldest was merely 79.
A portion of the proceeds from both the 5K and 10K simultaneous races will go to the volunteer organizations keeping participants hydrating at route water stations, handing out commemorative Bald Eagle adorned t-shirts, and managing the complimentary post-run massages.
Beneficiaries from last year included: Michael Scholz Memorial Fund, iPads for Soldiers, KB Presbyterian School and MAST Junior Honor Society, among others. A special award will be presented by Master of Ceremonies Geno Marron to the organization or group with the most participants.
Register online at Active.com. In person registration at The Courts Sports Gear, 79 Harbor Drive, Nov 5 to Nov 9. Course map, race age groups, and packet pick up details at kblhr.com.