As you celebrate Chanukah, remember this message of hope, perseverance, humility and courage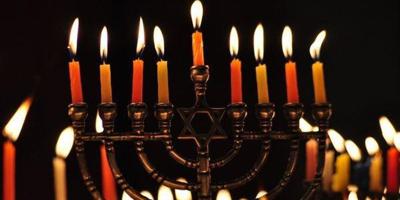 Chanukah season is upon us, and this year I'm searching deeper than the tray of donuts and want to find a takeaway from Chanukah that doesn't just include extra calories. I want to be wiser and take that lesson into the year again.
And because I am getting deep and meaningful, I am taking you guys with me. This year I don't just want the "wrappings" of the story of Chanukah (pun intended), I want to get a hope infusion from the Chanukah heroes from yesteryear.
What gave our ancestors the courage to fight against their mighty enemy? There wasn't even caffeine yet… how did they get their ducks in a row? While the oil lasting eight days gets so much attention, I wonder if perhaps the other miracle of Chanukah was that those scared, beaten, tired, overwhelmed Jews decided to get up, go against the current, and fight their enemies.
At a time when it was not popular to defend their beliefs and when the odds of winning were so very dim, they found an idealistic confidence and a deep trust in G-d. They cultivated positive energy and rallied the people: "Whoever is for G-d, for freedom, for light, for life, follow us!"
Then, when on an adrenaline high, they returned home and found their center in shambles, there was no moping or depression. They could have just rationalized and waited. "We'll start next week," they could have said, "when we have new oil, when we get things figured out and cleaned up." I wonder if perhaps the miracle of Chanukah is that those brave, exhausted, strong and positive Jews just moved forward and did what they had to do. Without thinking about it, without questioning it, without making excuses, without a rational explanation of how it would work out. They were grateful, they were happy and they were lighting their Menorah. 
Perhaps, we can all be the Maccabees in our day-to-day lives. Despite what social media is trying to tell you, we are all going through hard times.  Life is hard and we are constantly faced with heartbreaking challenges. Our freedom, our happiness and our positivity are routinely tested. Darkness abounds and threatens to overwhelm us. I wonder, how will we respond? Can we be brave and strong and fight back? Will we be the hero of our own reality? Can we rise above the naysayers and the negative forces and emerge triumphant? Can we, even when it seems like there is no way forward; like there are a million reasons to wait, like we have every excuse to keep our heads down, can we make one small effort?
If we can achieve this, we are the miracles in our own lives.
So, this year, I will be more pensive and more inwardly focused as I try hard to ignite within me an extra vial of hope, perseverance, humility and courage, and I invite you to do the same. Trust me, our ancestors would approve.