Candidate Endorsements: Islanders weigh in on the Council election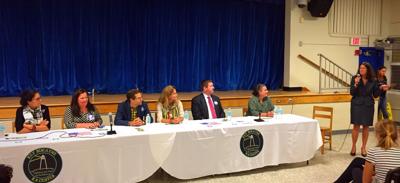 Following are mini-endorsements received from Key Biscayne residents regarding this year's Village Council candidates. Mini-endorsements are  in the order in which they were received.
Elect Brett Moss
In the past occasionally I saw conditions that guided my preference for personally not suggesting candidates for Council. This year circumstances lead me to strongly support electing Brett Moss. Then our Council will have five members familiar with all community issues.
Also, next week I will submit the names of two new candidates who in my opinion will complete in an advantageous manner our seven-member Council for a positive start in 2016. 
Our community will move forward to our 2018 Village election with great expectations for a bright future. 
Raul Llorente, Former Council member
Petros has the judgment, intelligence
I am honored to write an endorsement for Katie Petros as a candidate for the Village Council of Key Biscayne. Having been on the Council for 8 years, I know too well the demands of the job and the needs of our Village.
We need Council members who are thoughtful, intelligent, diligent, creative, and most importantly have good judgement and want to work for a consensus. Katie Petros has all of these qualities and more. In addition, I watched her in action as the dog park committee chairperson and saw how she handled that controversial issue with grace and a calm, measured response.
I have no doubt that Katie will make an excellent Council member and I encourage you to vote for her on November 8th.
Michael Kelly, Village Council member
Petros well-versed on needs of entire community
I am honored to have worked with Katie Petros on the Dog Park Committee and I humbly ask that you vote for her to represent us on the Key Biscayne Council.
Katie is intelligent, well spoken, hardworking, very well versed on present needs of seniors, children, working families and retirees and courteous to all.
We will be losing some very good Council members this fall...let's replace them with equally dedicated, informed persons, knowledgeable and committed to enhancing all aspects of Key Biscayne needs.
Conchita Suarez
Segurola will seek smart solutions
Ignacio Segurola is getting my vote for Village Council. He's bright, articulate and pragmatic and more importantly will seek smart solutions for Key Biscayne. I know this because he's my neighbor here in Casa Del Mar Condominium and is Vice President on Casa's Board.
I've seen him work through both big condo construction projects and complex compliance issues with the same goal: what's the best for our building? He will bring the same dedication and commitment to the Council and to Key Biscayne's entire community. 
A devoted husband and attentive father of two fine boys, Ignacio will be an excellent addition to Key Biscayne's Village Council and that's why I'm voting for him.
Diana Garmendia
Segurola well-informed, bright
In the upcoming Key Biscayne Council election, I will definitely be casting one of my votes for Ignacio Segurola.
If you haven't already, please make it a point to view the question and answer forum with all the candidates participating, which should be aired again on channel 77. You will then be able to judge that Mr. Segurola has truly done his homework and is very well informed on the issues concerning the Key. He presents his opinions and solutions in a clear and articulate manner.
Mr. Segurola is a congenial and very bright young family man, and would be a great asset in representing us on our Council. Please vote.
George and Nonie Linker
Petros has qualities of a leader
It is with great expectation that I write this letter as my endorsement of Katie Petros.  As a 20-year resident of Key Biscayne, I feel that there are three very important qualities that a candidate must have:
- A clear understanding of the needs of our community 
- A personality/character than intends to create harmony within our community
- A hard worker! 
Katie, as a 23-year resident of Key Biscayne, clearly lives and knows our community and lifestyle needs. She has raised her three children here and has been active in both political and social affairs. During a very contentious struggle regarding the need for, location and development of the dog park, Katie was always thoughtful, polite and listened to all sides of the argument. In the end, she spearheaded a very successful result without conflict while always maintaining a dignified demeanor. 
This type of example is exactly what Key Biscayne residents need and deserve – a hardworking, intelligent person who will get the job done in a professional manner. 
I urge our residents to vote for Katie Petros! 
Sheldon Lowe
Petros honest, committed to Key
Please accept this email as my endorsement of Katie Petros as Key Biscayne Council person. I have personally known Katie for 10 years and have found her to be honest, competent, responsible and have a deep commitment to her community. She is an upstanding member of this
community and has a wonderful work ethic.
I will vote for Katie and know that if she is elected, she will work diligently, fairly and represent our community well.
Moss, de Ayala, Segurola excellent candidates
I confirm my strong recommendation to elect Brett Moss.  His impressive technical knowledge to evaluate important projects is a huge plus for excellent performance by our local government. He understands the priorities of residents and will provide intelligent and correct analysis to achieve our goals and objectives.
Also, I firmly believe that the character of Violette de Ayala encourages her to seek optimum results in our Village with fair consideration for the ideas of all residents.
And the calm demeanor and sharp focus of Ignacio Segurola would contribute to comprehensive Council decisions.
The wonderful dialogue continues in Paradise. 
Raul Llorente, Former Council Member 
Moss understands needs of community
We are extremely fortunate to have the opportunity to elect a superb slate of Council candidates. Brett Moss is an excellent candidate, electing him will ensure the active participation of a knowledgeable Council member working in our community's best interest. 
He is an exemplary professional, a gifted architect, and a valued longtime Key Biscayner whom understands the needs and wants of our community.
I have had the pleasure of speaking with Brett Moss on several occasions and believe he will be a major asset to our wonderful Village.
Ed Sanchez
Segurola will serve with dedication, integrity
We are voting for Ignacio Segurola for Village Council. Ignacio is focused, does not overextend himself, and is highly dedicated to his family, his legal profession, and the Casa Del Mar Board of Directors.
The Village will be fortunate to have Ignacio invest that same integrity, intelligence and passion to represent us in the many important and challenging decisions facing us in the years to come.
Prof. David W. Miller and Karen LK Miller, Esq.
Moss involved, knowledgeable
Brett Moss's participation, contribution, dedication and volunteerism to many of our community organizations have given him the ability and knowledge to represent us well.
Let's elect Brett Moss for Council.
Michele Estevez, Former Council member
Segurola will be valuable on Council
For over 32 years we have been active participants in both the Village of Key Biscayne and the Board of Directors of Casa Del Mar Condominium.
We have known Ignacio Segurola for the 17 years he has lived in Casa del Mar as a wonderful neighbor, husband, father and son, as well as a valuable member of the Condominium Association's Board of Directors. Ignacio has made many thoughtful, intelligent, concise and positive contributions in our board meetings, and his helpful work with our manager has produced tangible improvements to Casa del Mar.
We believe he will be an equally valuable Key Biscayne Council member and so we are going to vote for Ignacio and recommend that you do as well.
Michael and Gloria Kahn
Petros will research, make best decision
I have gotten to know Katie very well over the past few years as a co-member of the Dog Park Committee. She is very well organized and was a big part of the detailed information that we prepared for the Council and the people of Key Biscayne in regards to the new dog park. I never saw her let any negative feedback from others deter her, on the contrary she would acknowledge those concerns with the proper research and facts in each issue that would come up.
As a voter on Key Biscayne I urge everyone to look at what she stands up for and vote for her. I have lived on Key Biscayne for over 35 years and I know that there is a fine line on a lot of issues that come up at Council meetings because we are a small community and everyone knows everyone. She will not let confrontation sway her from doing her research and making the best decision with the other Council members for the people of Key Biscayne.
Please vote for Katie Petros!
Andrew Garcia III
Petros patient, community-oriented
I served with Katie Petros on the Dog Park Committee for four years and watched her carefully and fairly handle the arduous and difficult process of advocating a controversial project. As President, she endlessly and steadfastly educated the community and researched the proposition and kept the committee strong but open-minded.
I know Katie to be extremely intelligent, resilient, patient, community orientated and a careful and thoughtful speaker. She will make an excellent addition to our Council. She has the vision, the fortitude and the compassion to help move our Village forward.
The Council needs Katie Petros!
Claire Amerena London
Moss will make fair, reasoned decisions
I urge everyone to vote for Brett Moss for Village Council. I have known Brett for a number of years, and he brings talents and experiences to the Council that will be of great value going forward.
As a professional architect, he understands the importance of planning and is probably one of the most qualified to help review and update our Master Plan. As a father of two school-age daughters and a preschool son, he has already demonstrated his commitment to improving our community school. Brett has been active in numerous community organizations, including as a Special Advisor to the Key Biscayne Condominium Presidents' Council (KBCPC).
He is familiar with the needs and aspirations of our entire community and has proven himself an interested and careful listener. I believe that he will hear all sides of the issues facing us and make fair and reasoned decisions.
Antonio Camejo
Petros has integrity, depth
I have known Katie Petros for over 15 years and have had the pleasure to share many moments with her. We served together on the board of our children's elementary school and have also spent many an afternoon cheering on our sons and daughters on our island's sports teams.   
During many conversations and interactions over the years, Katie has in her own quiet, modest way asked the right questions, challenging and pushing us to reflect deeper on issues, both institutional and personal.  She is a person of integrity and depth and most importantly a great listener who cares deeply for our community.
I am confident that these qualities will translate into effective policies and solutions for our Village as they have in the past for the organizations she has been involved with. It would be a privilege to be represented by Katie Petros.
Olga M. Beeck
Petros has ability to get things done
I was thrilled to learn a few weeks ago that Katie Petros was running for Village Council. I've known Katie for several years and I cannot think of a more qualified person than Katie to be a Council member. 
I came to know Katie while our children attended the same elementary school and I witnessed firsthand Katie's ability to get things done.  I've always admired her take-charge attitude and leadership skills. Katie is intelligent, dependable, responsible and logical. She's a wonderful mom, a great friend, and a caring human being.
I know she truly loves Key Biscayne and I trust she will make the right decisions for our community. My husband, Michael, and I agree that voting for Katie Petros will be the easiest choice we will be making on the ballot this year!
Debbie Alesandro
McCormick, Moss, Petros understand the issues
Brett Moss is an outstanding candidate for our Village Council. His background as an architect and in urban planning will be very helpful in improving our Village. He has become totally involved in our community organizations and understands our issues. He truly cares about our Village and its future. Brett has my wholehearted endorsement for the Council.
I have seen Katie Petros in action as chairman of the Dog Park Committee. She does her research, thinks calmly and makes intelligent decisions in forming her opinions. She has studied and understands the issues facing our Council.  She truly cares about our Village and she is at a time in her life where she can devote the time needed to serve on the Council.  Katie has my endorsement as a candidate for our Village Council.
Allison McCormick has done an amazing job at the Key Biscayne Community School. Allison is very intelligent and creative.  She understands the issues facing the Village.  She is a "can do" person who will get things done.  She would be an excellent addition to our Council and I am pleased to endorse her!
Betty Sime Conroy, former Council member
Moss will protect Key's future, past
It is an honor for me to give my full endorsement to Brett Moss. My late husband Jim Taintor only had great things to say about Brett, and I agree. I admire his love for the Key and all that needs to happen not only now but 10-plus years from now, while keeping and preserving the past.
Please give your vote and support to Brett Moss – I will.
Ann Taintor
Petros offers strong leadership skills
I encourage you all to vote for Katie Petros for Village Council. Having known Katie since our oldest children, now 19 years old, were young, I have witnessed how she pours her enthusiasm into whatever it is that she is passionate about.
We are very lucky that she will commit to volunteering her time and strong leadership skills to improve our lives. By voting for Katie, you can be assured that she will fully focus on helping Key Biscayne remain the island paradise it is and improve it even more. Vote for Katie!
Marisa Dwyer
McCormick, Moss, Petros experienced leaders
Among our community's impressive collection of candidates for Village Council I am most impressed by Katie Petros, Brett Moss and Allison McCormick.
Katie, Brett and Allison have already delivered successful projects through collaborative vision and willingness to work hard to overcome obstacles for our community. They are all committed to needed strategic planning for the future, bolstered by the fact all are raising their children here.
Brett's experience as an architect is especially timely in light of our pressing infrastructure and urban planning needs. Katie, Brett and Allison are experienced community leaders who are well informed and consensus-oriented. I believe they will serve us well.
Pat Woodson, former Council member
De Ayala, Moss and Petros earn support
Election time is here and we now have the opportunity to elect three candidates to the Council. Six candidates have thrown their name in the ring, and that alone speaks very highly of each of them. But without any defining, polarizing issue to separate them, we have the need to go beyond answers to typical questions to make our decision.  So we must go deeper to make our choices.
I had the privilege of serving our community for eight years on the Village Council.  Along the way, I learned much about our community, specifically which candidates are likely to become effective representatives for us on the Council.  There are some specific traits/experiences that I believe are most likely to help us decide which candidates may be most successful.  First, I like to see someone with a history of service in our community.  Depending on the breadth of their involvement, we are able to evaluate their past performance and predict their likely success on the Council.  Under that premise, two current candidates seem to have a great advantage over all others. They are Katie Petros and Brett Moss. They have shown over time a level of engagement and a willingness to serve our community that now make them excellent choices.  I will be voting for them.
Lacking a history of local service, I look to the candidate's prior history of service outside the Village. In doing so, I try to evaluate how those experiences may translate to serving on the Village Council.  Under this category, one candidate stands out for me. That is Violette de Ayala. Her service on boards at the city and county level speak very highly of her and have given her the experience that makes her prepared to serve on the Council.  Her involvement in the Virginia Key Master Plan process makes her invaluable as we deal with the Marine Stadium. I will be voting for her.   
I applaud all candidates and hope their current engagement continues whether elected or not.  For this election, I am endorsing Katie Petros, Brett Moss and Violette de Ayala.
Jorge E. Mendia, M.D., former Vice Mayor
Petros shows leadership, conviction
Have you been to the new Key Biscayne dog park yet?  Swing by between 5-7 p.m. on any given day and share in a glowing example of how cross-sections of our community gather, interact, talk, laugh, and come together! 
Guided by Katie Petros's leadership and conviction, this collaborative vision came to fruition.  Let's ensure that Katie stays involved when we cast our votes for Council on November 8.
Manny Rionda 
Petros committed to greater good
Having been fortunate to live for the past 31 years on our unique island paradise, I care very deeply about the wellbeing of our Village and its direction. There has been a great deal of change during the time I have lived on Key Biscayne, most changes have been for the better but some have not. Each time we elect new Council members we entrust in them the direction of the future of our precious home.
This year provides a slate of strong candidates who I am confident would all be excellent caretakers if elected. Notwithstanding, I strongly endorse Katie Petros for Village Council. Having known Katie for over a decade, it is clear that she has the work ethic, commitment, intellect and, most importantly, practical sense to help steer us forward. Her unselfish demeanor and commitment to the greater good of all, as opposed to her own personal agenda, makes her perfectly suited to move our Council and Village forward. Please consider her when you step into the booth on November 8.
Glen H. Waldman, Esq.
Petros' demeanor continuously positive
I have had the pleasure of knowing Katie Petros since 2006, when our two oldest children entered Sunset Elementary School.  During these years Katie was active in fundraisers and other events for the school.  In planning meetings Katie came fully prepared with fresh ideas and an eagerness to volunteer.
Our service on Key Biscayne's Dog Park Committee was when I discovered Katie's true leadership capabilities. In her capacity as Chairperson, Katie gave undivided attention to those who challenged the creation or location of the park.  Today she continues to listen openly to all suggestions for the park's enhancement.  Her demeanor is continuously positive. 
Katie's patient comportment when presenting at Village Council meetings, coupled with her preparedness, have shown me that she is ready to take her service to our community to the next level.  She will make an excellent Council member and I endorse her unconditionally.
Jill Stephens, Campaign Co-Chairperson
Moss, McCormick, Petros have experience to serve
Immediately after you elected me to Village Council, I started to worry about whether we would have enough interest from qualified candidates in future elections. Frank Caplan assured me residents' altruism was persistent whereby I need not worry, and I am elated to echo his sentiments today. Having heard from each of the candidates, I can confidently attest we have more well qualified candidates than seats available. What a wonderful conundrum!
I am enthusiastically endorsing Brett Moss, Allison McCormick and Katie Petros for Council in 2016 because they served the Village by chairing various committees, they sought opinions from numerous residents and they committed to improving communication.
Also, I am preemptively endorsing Violette de Ayala and Ignacio Segurola for Council in 2018, since I am confident they will make excellent Council members based on everything they have learned these past few months.
Theo Holloway, Council member
Village should be encouraged by all candidates
If only our choices for President were as good as our choices for the Village Council.  Katie Petros, Alison McCormick and Brett Moss have good ideas, great personalities, impressive backgrounds and exhibit all of the character traits you would want in someone with the power to make decisions affecting our community.  If elected they will do well.   
I have only met Violette de Ayala briefly but she is enthusiastically supported by people whose opinions I respect. I do not know Ignacio Segurola or Rosemary Thornton but I am told they are also good people who would honorably serve the community. 
I think we have every reason to be encouraged about the ability of our elected leaders to address the challenges that lie ahead.      
Gene Stearns
Moss can help address sea level rise 
Brett Moss has been heavily involved in Key Biscayne in the past few years and is well aware of our island's needs and challenges. One of these very important challenges for Key Biscayne going forward is adapting to rising sea levels. This is a problem that is not resolved quickly, we need to start working on a solution now.
Brett, with his background in construction, architecture and environmental design as well as his dedication to our island, is our best candidate for this. Vote Moss!
Carolina Raaijen
McCormick has conviction to succeed
I would like to endorse Allison McCormick for Village Council.  She has the conviction and energy to deal with our issues.  She is smart, dedicated and will work hard for Key Biscayne. 
Susan Brewster
Petros cares about entire community
In my 20 years as a coach in Key Biscayne I've met many great people who truly cared for our island. Katie Petros is one of those people. She cares about our community, she cares about everyone who calls Key Biscayne home, both young and old, both newcomers and old-school Key Rats.
We would be lucky to have her represent us as a Council member.
Tony Goudie
Petros will build consensus
I am gladly supporting Katie Petros for the Village Council in the upcoming election. She has a proven track record in providing sound leadership as demonstrated by the successful completion of the new dog park.
Her diligence throughout the process, done with great respect to everyone involved, shows she can handle pressure and get a job done. Additionally, as a longtime resident and volunteer, she has the ability to build upon her relationships, which benefit our entire community. Katie understands the value of consensus-building but not at the cost of indecision or ineffectiveness on tough topics our community faces.
Please consider Katie when you cast your vote.
Amy Easton
McCormick, Moss a perfect fit for Key
I'd like to recommend Allison McCormick and Brett Moss for Village Council. No doubt each of the six candidates care deeply about our wonderful island paradise, Key Biscayne. I'm grateful and value each of them and hope the three that are not elected keep the course and commit themselves to the betterment of our community through civic engagement, volunteer opportunities, continued Council meeting attendance and trying again for a seat on the Council next time. A big thanks to Council members Holloway, London and Kelly for their service.
As to why I specifically think Brett and Allison are a good fit obviously has a lot to do with their well-rounded commitment to our community's past, present and future; young, old and in-between. But more so it's their ability to get things done and the manner they go about achieving goals, which is directly linked to their character and personality. 
Allison McCormick is a tireless individual who will be an excellent Council member. Allison is a very dedicated, tenacious and spirited worker.  Interestingly, she very often will approach a topic with an insightful perspective that no one else thought of.  She is thoughtful, direct and honest and works very well with others, and I know she will work hard to make our community better and our government more efficient. 
Brett too will be an excellent addition to our Village Council. He is very easy to work with. Brett is a thoughtful and calm leader, intelligent negotiator and hard worker. He fully grasps and understands an issue and thinks before he speaks to it. His background will lend itself greatly to our infrastructure concerns and his easygoing demeanor means less arguing and more getting things done.   
Kristen Guess
McCormick will enhance life for all
We would like to endorse Allison McCormick because she is knowledgeable, intelligent, dedicated, and aware of the needs of our community. 
She is committed to bring about improvements to our Village that will enhance the lives of our citizens including children, adults and seniors.
Former Council member Cliff and Sally Brody
Petros has Key's best interest in mind
I have known Katie Petros and her family for over 10 years. Over all this time she has consistently conducted herself as a good neighbor and citizen. I have no doubt Katie is highly qualified to be out next Council member and has the Key's best interest in mind.
Sylvia Sannia
Petros will deliver on promises
My name is Angela Saldarriaga, I have been a Key Biscayne resident for 22 years, since I moved to Miami.  I am very happy that Katie Petros decided to run for Village Council. 
I have known her for about five years and I feel confident she will deliver what she promises. From what I have known about her, the goals that she sets, she achieves.
Angela Saldarriaga
Moss has made substantial impact on KB
We are fortunate this year to have six admirable candidates for the Village Council. I am writing to urge the election of Brett Moss because he has already made a substantial impact on the life of Key Biscayne with his service for the schools and participation with the Key Biscayne Condominium Presidents Council.
Brett will bring an important measure of maturity to the Village Council that will well serve the current members as well as those who would be elected along with Brett.  It is for these reasons that I want to especially endorse his candidacy.
Donald Elisburg
Petros will be a star on Council
We have excellent choices for Village Council in the upcoming election. That said, Katie Petros will be a star on our Village Council.  She is kind, pleasant and thoughtful, and has the energy, tenacity, and character to get things done – and done well -- for our community.  
She is concerned about tackling difficult issues before we are dealing with emergencies.  She is an excellent listener, who will educate herself regarding the issues facing our community.  I know that if Katie Petros is elected, our community will be in excellent hands.  
Jennifer Stearns Buttrick
De Ayala can make positive impact
Donnie Hall and I are very proud to endorse Violette de Ayala for Village Council.  She is a brilliant entrepreneur, a fierce supporter of protecting the environment and has a great deal of experience after having worked with two Miami Mayor offices on different projects. She was also part of the White House: Women Environmental Leaders Program.
On a more personal note, Violette is a very caring individual who truly wants to make our community better. She sincerely wants to make a difference and has the experience, demeanor and strength to make a positive impact on our Island Paradise.
Paola Padovan
McCormick, Moss, de Ayala will serve Key well
I am writing to endorse Allison McCormick, Brett Moss and Violette de Ayala for Village Council. While we are fortunate to have many excellent candidates this year, I feel that Allison, Brett and Violette are the best choices and will serve this community well.
I first got to know Allison McCormick through the Council's Education Advisory Board. Allison brought a focus and insightful nature that greatly enhanced the contribution of the EAB to our local schools. But, Allison's concern for Key Biscayne goes far beyond education issues. Allison has a strong grasp of the issues we face on Virginia Key, as well as the lack of playing fields and the necessity of beach renourishment for Key Biscayne to continue to thrive. Allison is dedicated to keeping the Village of Key Biscayne as the great community it is. I have seen Allison in action, and I know that she will always bring a tenacity for the causes she believes in, tempered with an ability to listen to the opinions of others and to take them into account when making decisions that affect our island. I know that Allison will do well for our Village.
Brett Moss is a dynamo. I have served on several boards and committees with Brett, and I have witnessed his drive to help the Key Biscayne community. Brett has done a lot to really get to know the issues that impact the Village. Brett has been a vocal advocate with respect to sea level rise, and has been helpful with the EAB. Brett brings a strong understanding of our zoning code and its impact on many facets of our community. I am confident that Brett will be a valuable asset on Council.
I have known Violette de Ayala for almost 10 years. Violette was a neighbor of mine on Glenridge Road. Violette has always been a warm, thoughtful and engaging person, who wants to do what it right for the Village. Violette is an experienced businessperson who will bring her acumen to help focus the Council's actions. Given Violette's business and not-for-profit activities off the Key, I think the relationships she has on the other side of the bridge(s) will be helpful in trying to work with the County and the City of Miami to reach a positive result on Virginia Key.
I am very happy that so many qualified candidates are running for Council this election. Community participation is critical to keeping Key Biscayne as the tremendous community it is. Regardless of who you support, remember to vote on or before November 8th.
Mike Davey, Former Vice Mayor   
Petros has impeccable judgment
I have the good fortune to know Katie Petros for nearly a decade as a fellow parent and Key Biscayne neighbor.
She shows impeccable judgement and levelheadedness, an ability to consider all angles of a project or task, she listens and comes up with collaborative solutions to problems, and always exhibits great respect for all those she engages with. Katie can be counted on to get the job done.
Katie has my vote!
Nancy Levitt Davis