Police Chief will likely make quarterly progress reports to make sure budget cutbacks don't hurt service, safety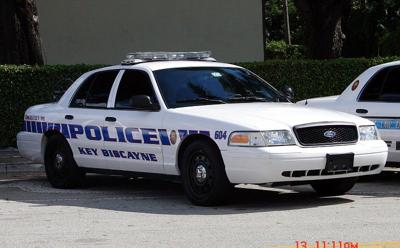 Police Chief Charles Press plans quarterly reports to the Village Council in the year ahead to make sure his resources don't get too strained by efforts to expand service while still posting a minimal budget increase.
Village Council members applauded those efforts at their September 11 first budget hearing, but also said the KBPD's mission is so essential that they want to take special steps to make sure officers have what they need to keep the community safe.
The Council holds its final budget hearing tonight at 6 p.m. in the Council Chambers. It is open to the public and airs live on government TV stations and keybiscayne.fl.gov.
Council member Katie Petros pointed to a steep cut to Press's overtime budget and his decision to reduce Marine Patrol service in order to cover a new need: a state mandate to have a full-time officer at the Key Biscayne K-8 Center.
"If this is straining you and you don't feel you can provide the service you need to, I think we need some flexibility to give you something back," Petros said.
Press, noting his department is statistic-driven, said he welcomes the chance to keep the Council appraised via quarterly reports. "We're going to keep a close watch on the numbers to make sure we can still provide a very safe community," he said.
At a June workshop, Press had proposed a $7.85 million budget, up $636,000 over FY 2018; for the September hearings, he'd lowered it to under $7.82 million.
A big topic of conversation was overtime: In June, Press proposed a reduction from $341,000 to $278,000, but warned it came with a decrease in various forms of officer training; special details like enhanced Marine Patrol, crime suppression and traffic control; and in-kind services like having a dedicated officer at events like Winterfest or the July 4 Picnic.
The chief was also able to cut between $6,000 and $8,000 of overtime associated with the Miami Open tennis tournament, since the event won't be held at Crandon Park next year.
On the 11th, the overtime line was set at $304,000, which will restore some of the training. The KBPD has to use overtime for training, because officers are either brought in on days off for the sessions or must have their shift filled by another officer on overtime while they train on-duty.
While some funding was restored, Press noted, "We've actually cut out an additional $150,000 in overtime that was to be used toward extra training, extra details. We took a very drastic look at what our costs were to ensure that we were still able to provide the Village with the services we need to; be able to support absences we know we're going to incur due to vacations, illnesses and leave; and provide for some additional service during the holidays and things of that nature."
Other issues the chief highlighted include a one-time $20,000 line for an IT specialist who will help the department transition to a new system, as well as increases to non-discretionary personnel expenses. Savings include $25,000 less for vehicle fuel and $15,000 less for boat fuel.
Meanwhile, Press also highlighted capital projects including the replacement of 36 ballistic vests, a license plate reader for Crandon Boulevard, and replacement of 16 police cars.