Things I Love to Do: John Gilbert reflects on Key Biscayne favorites as he retires from the Village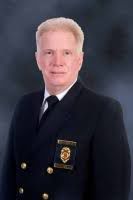 Things I Love to Do
The sun is shining, a breeze is blowing and you don't have any reason to leave the island. What do you do with your perfect day on the Key? John Gilbert retires September 30 after a 46-year career in public service, the last 25 on the Key as Deputy Fire-Rescue Chief, Fire-Rescue Chief and Village Manager. As he eyes his next chapter, he shared his local favorites.
Start the Day
"The start of every day for me is that 15-minute period of tranquility as I drive the Rickenbacker Causeway and through Crandon Park on my way to my first appointment or meeting," he said. "As a reward for this period of solitude, it's also gratifying to see so many residents and visitors out walking, jogging and biking in the early hours."
Passing Time
The thing he loves most about his job is that very few moments and challenges are scripted, and he gets to develop solutions as issues arise. "Frequently, and staff loves it when I do it, it's a 'road trip' to view firsthand the issue. Working on solutions certainly passes time …and the drive off the Key at the end of the day also allows for a productive passing of time," he laughed.
End the Day
For Gilbert, who celebrated his 65th birthday September 21, the end of each day is mostly about reflection: "Did I meet expectations, both mine and those of others? Do I still have work to do? If I haven't hit the right marks, have I taken the time to be sure all involved are current with the latest information? I live by the credo that it's not over until it's over."
Of course, life isn't all work and no fun: "The end of day also includes enjoying the many fine establishments on the Key that serve up outstanding cuisine and libations...truly paradise."
Suggestions
Do you have a recipe for a perfect day on the Key? Email editor@islandernews.com.