Your Question Answered: Just what are the rules for using golf carts on Crandon?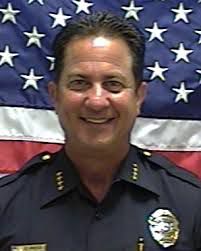 Answered by Charles Press, Key Biscayne's Police Chief
Golf carts are a popular form of transportation on the Key, and Crandon Boulevard is the island's main street – so at some point, the two are more or less going to have to interact.
But there are rules in place for making that interaction safe, Press said. The main rule is simple: golf carts are only allowed on Crandon to travel from one intersection to the next immediate intersection, he said. At that point, they must turn off Crandon and continue on interior streets.
Press said the rule is rooted in the realities of lightweight, open vehicles interacting with heavy, fast-moving traffic.
Golf carts – and their occupants – don't stand a fighting chance in an accident with an SUV or truck traveling 30 mph or above. Therefore, he said, its best to keep them off busy, faster-moving Crandon and move them to interior streets, where traffic is lighter and speed limits are 20 mph.
Fortunately, the Village has made it easy to get around town in a golf cart without using Crandon much at all. Many public and private facilities have premium parking reserved for golf carts only, and there are 10 access points to get to businesses and facilities throughout the Key:
-          Fernwood Road at the Key Executive Building
-          Fernwood at the Key Colony Plaza shopping center
-          Fernwood at the 240 Crandon professional building
-          Fernwood at the Galeria shopping center
-          Fernwood at The Square shopping center
-          The Square and the 240 Crandon building
-          Fernwood at the Winn-Dixie shopping center
-          Harbor Plaza (7-Eleven) shopping center and the entry block parking lot
-          St. Agnes Catholic Church/Harbor Plaza and the Calusa Park pathway
-          Key Biscayne Branch Library and the Sonesta Drive golf cart parking lot
Meanwhile, there are other rules to follow. Drivers must bring their license, golf cart insurance, registration or bill of sale, and $15 to the police station to register their vehicles. They'll receive a permit, which must be affixed to the cart. Also, operators must be 16 and have a valid license; must comply with safety belt and child restraint laws; can't go on sidewalks, bike paths or beaches; must obey all traffic and parking laws; can't carry more passengers than the cart is designed to hold; must have carts with headlights and a windshield if driving between sunset and sunrise; and must comply with state insurance requirements.