Brickell resident Sue Keating does it all – wife, mom, florist extraordinaire, golfer with the Key Biscayne Women's Golf League. But it is her cooking skills that are helping her achieve worldwide renown.
Keating recently took her culinary art skills to her native Canada to compete in a high-stakes, action-filled culinary contest on the Netflix's cooking show, "Cook at all Costs."
The game show-like competition pits Keating against two other contestants, Beth Fuller and Stephaughn Patterson.
The format is slightly different from other other TV cooking contests. Instead of winning money for competing in three rounds, each contestant is given $25,000 to start the show and then has to bid on various ingredients to make the best dishes.
Even more challenging is the fact the contestants don't know what they'll be cooking until they open their boxes.
The contestants spend portions of the $25,000 to bid on boxes of ingredients such as seasoning, vegetables and mayonnaise to complete their meal. Winners get to take home the amount left over after three rounds of cooking.
Bidding ranged from $4,000 to $8,000, said Keating.
"Right off the bat, you had to spend several thousands of dollars to get the ingredients to cook," she said. "If you didn't have enough to make a dish, like you need eggs or tomatoes, you're down to $9,000 to $10,000 out of the $25,000. I tried to save as much money to take home but had to spend some money to win."
Keating, 58, said she was nervous before the competition started but was relaxed throughout the 16 hours of filming in the Canadian Broadcasting Company cooking studio. She said she doesn't want to reveal what she cooked or who won the competition so as not to spoil it for viewers who watch on Netflix, which is streaming the show worldwide.
"I enjoyed the experience," she said. "I wasn't nervous and I didn't freeze up. When I got there I was smiling from ear to ear. I enjoyed every moment of it."
Keaing, who once owned a flower shop in Maine called Sweet Pea Gardens before her family moved to New York and then Miami, said she has been cooking for herself, her family and guests for years.
"I cook for myself because I love food," she said. "I cook for people as my way of connecting with them and expressing my love for people. I just have a passion for cooking. I find it very relaxing and therapeutic."
When the show's producers advertised for home cooks to compete, Keating's former college roommate told her about it. She jumped at the opportunity along with several thousands of others.
The rigorous application process lasted several months and included submitting videos of cooking demonstrations. Keating was one of 24 people selected.
Last March, she learned that she would be competing in the "American Diner" episode with celebrity chef Richard Blais as judge and celebrity chef Jordan Andino as host.
To prepare for the show, Keating cooked all types of dishes and timed herself each time.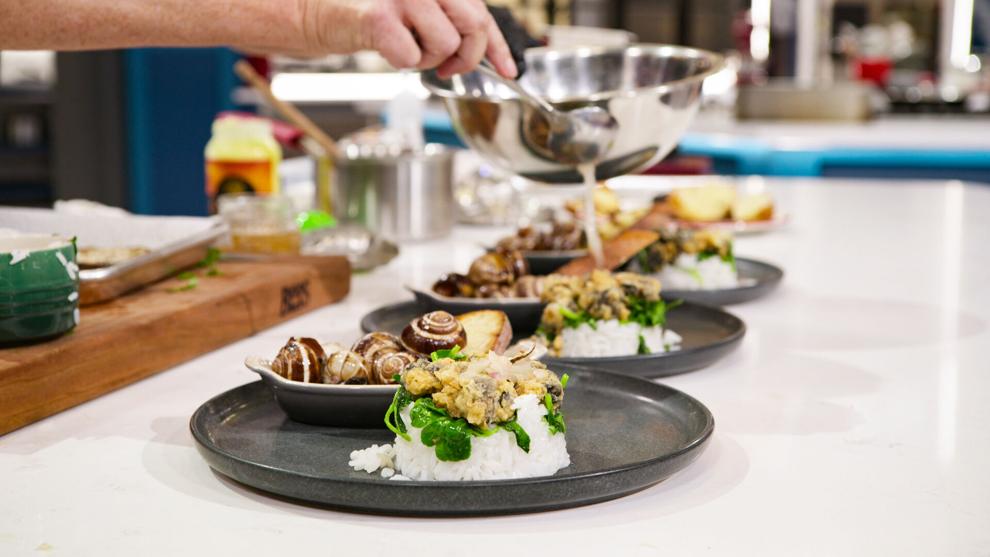 "I put myself through cooking school in my own kitchen for months," she said. "The crazy part about the show is you don't know what to cook until you open your box … and have to make something in 45 minutes. You have to figure it out quickly.."
This isn't Keating's first stint being featured on TV. A floral expert from her work with Sweet Pea Gardens, she was featured on Martha Stewart Living, Garden Design, Country Living, FLOWER. Additionally, she has written in magazines over the years.
After moving from Maine to New York, the Keatings moved to Miami last year because her husband's construction management company transferred him to South Florida.
Keating said Miami is a bit warm but she loves the city's spirit, the ocean and learning about Cuban and other Latin foods. She also joined the Key Biscayne Women's Golf League.
Keating hopes the Netflix show offers to bring her back for season two of "Cooking at all Costs," which could lead to other appearances on cooking shows. "I would like to teach people how to cook and see where it leads to.".