On Sunday, a super event – deemed the Big Game – will take place to determine the best football team in the US, champions of the National Football League (NFL). But is Sunday really about football? Or the multi-million dollar TV commercials that will be unveiled during the game? Or, is it really about food?
For the casual football fan (or non-fan), the Kansas City Chiefs, champions of the American Football Conference, will face off against the Philadelphia Eagles, champions of the National Football Conference, in Super Bowl LVII (that's 57 for those unfamiliar with Latin) at State Farm Stadium in Glendale, AZ.
Coincidentally, the KC Chiefs also played in the very first Super Bowl in 1967, losing to the GreenBay Packers..
But, that's neither here nor there. Let's get back to food.
Super Bowl Sunday is the second largest "food holiday" in the US behind Thanksgiving, but the menu tends to be very different. Even if the game is now played close to Valentine's Day due to the NFL's 17-game schedule, Americans will consume traditional and not-so-traditional food and snacks on Sunday.
It is estimated that Americans will eat 1.45 billion chicken wings during Super Bowl Sunday, according to the National Chicken Council. We'll eat more than 20 million pounds of cheese, according to the Dairy Farmers of Wisconsin. Pizza is also big, with an estimated 13 million pizzas being sold on game day. And what goes well with all of these? Beer, of course! It's estimated that over 325 million gallons of beer will be consumed.
While some island residents will likely venture into the kitchen for some home cooking, many fans do not want to miss a minute of the game – or the commercials –so they will be ordering out. If pizza seems too bland for you, there are local options.
The Golden Hog has prepared a special menu – The Big Game Catering Menu -- that makes it easy to snack and watch. There are some hearty options, too.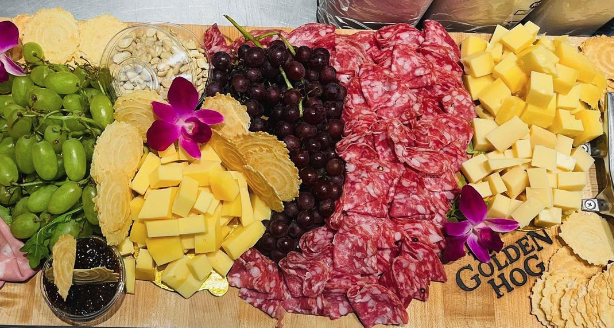 The Golden Hog's store manager Gabriel Marin "got creative" in piecing together a menu that includes classics like "Build Your Own Burger" Touchdown Platters that includes 10 burgers, 10 brioche buns, lettuce, tomatoes, onions, pickles and condiments. But he also created a "Build Your Own" Choripan platter, which includes Linguica sausage with chimichurri, yellow mustard and baguettes.
For those craving chicken wings, there is also a Game Day chicken wing platter, served with celery, carrots and a choice of Ranch, blue cheese or BBQ Sauce. And while on the subject of BBQ sauce, Marin also added a "Build Your Own" BBQ pork slider that's served with coleslaw and pickles.
The Red Zone appetizers are where The Golden Hog's menu differs. Imagine the reaction your Sunday guests will have when you serve octopus salad with pico de gallo and crostinis, or a lobster dip, or Tuna Tataki with cucumber washi (yum!). There is nothing ordinary in these offerings, which also include mango salad with tortilla chips.
There are also Halftime cheese and charcuterie boards, an assortment of five cheeses, fuet and truffle honey, as well as a Spanish specialty.
Of course, The Golden Hog's in-house sommelier, Marcella Carneiro, has selected wines that act as a companion to any of the platters you choose, if you prefer wine to beer.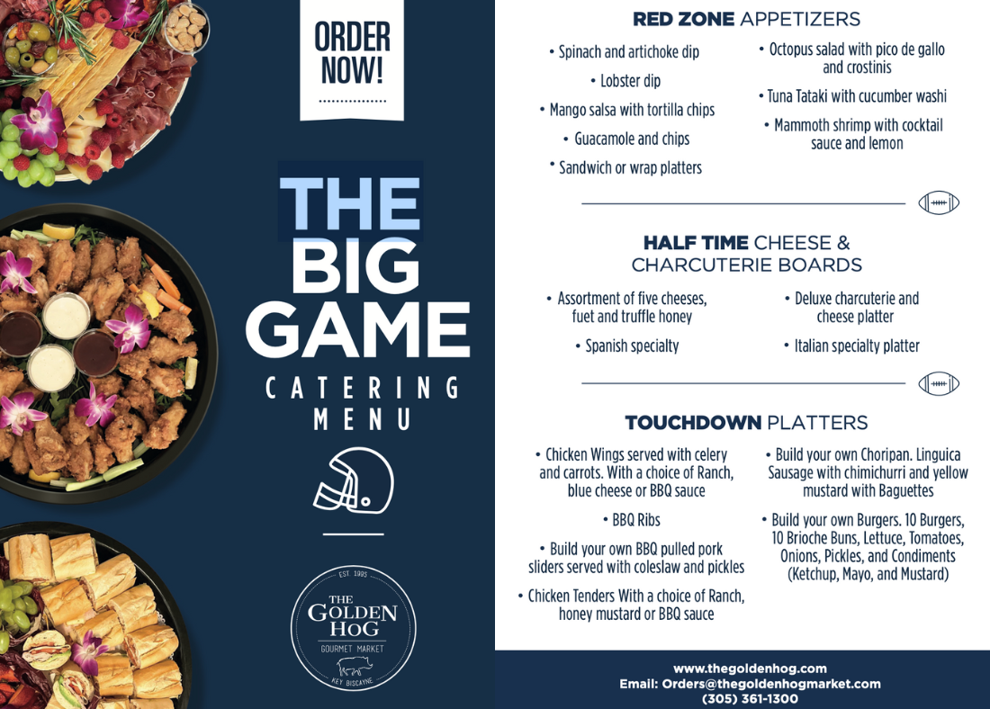 Some of Marcella's recommendations:
– Lobster dip + your favorite Chardonnay
– Shrimp Cocktail + a crisp and refreshing white (look for Muscadet, Pinot Blanc, Torrontés or Grüner Veltliner).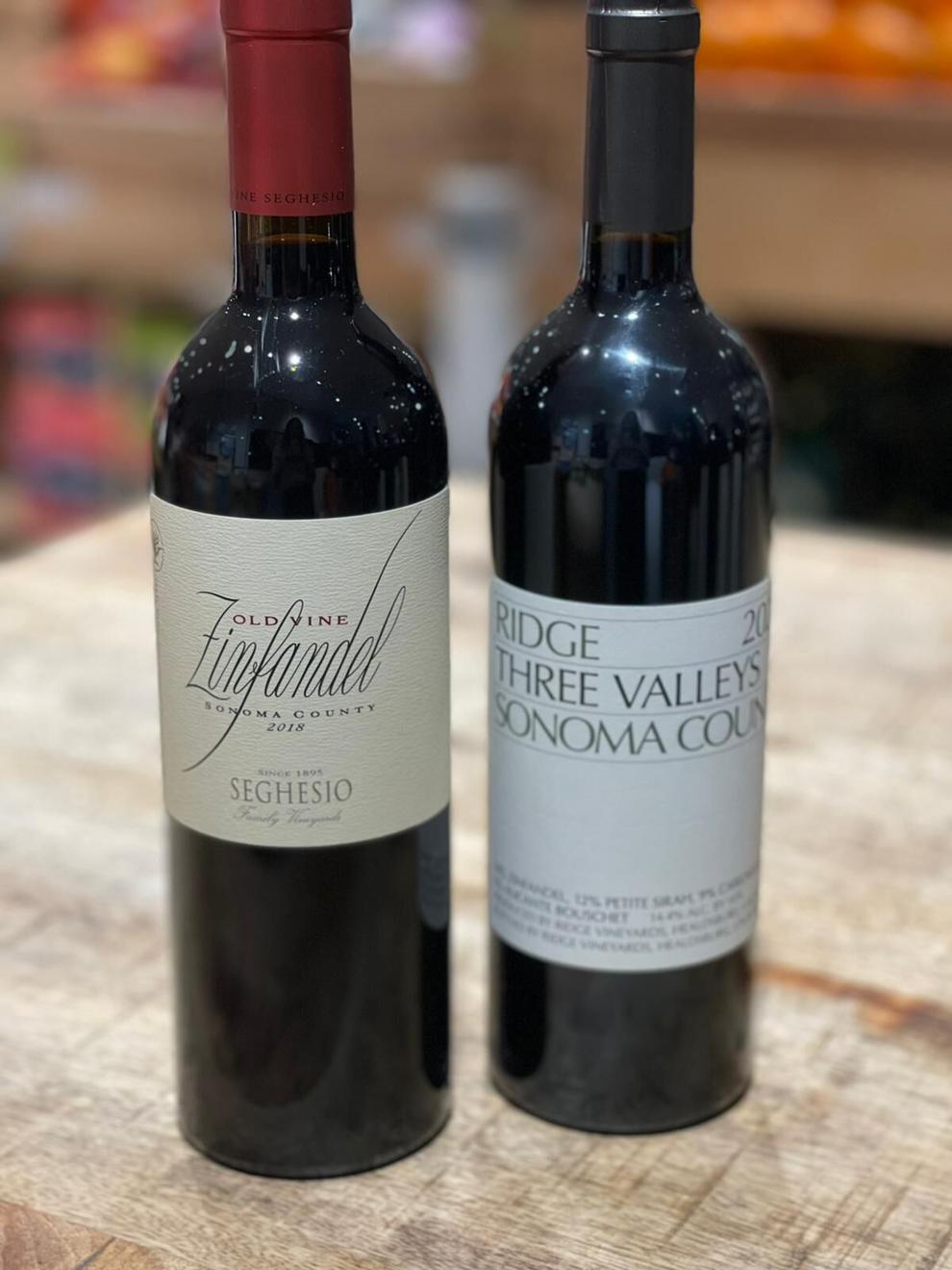 – Spanish specialty platter + Tempranillo (try Dehesa La Granja "Dehesa 14" 2005 or Marques de Murrieta Reserva 2017)
– Italian specialty platter + a juicy Sangiovese-based wine (our Somm's favs: Carpineto Vino Nobile de Montepulciano and Felsina Chianti Classico Riserva)
– Chicken Tenders + a crispy sparkling like Paula Kornell Brut from California or Canard-Duchêne Cuvée Léonie Brut from Champagne
– Chicken Wings + Aromatic or Off-Dry White such as Vouvray, Riesling, Viognier
– BBQ Pulled Pork Sliders + big, velvety Zinfandel
---
To make an order, visit the store, click here www.thegoldenhog.com, or call (305) 361-1300. The Golden Hog is located in Harbor Plaza, 91 Harbor Drive. It is open from 8 a.m. to 9 p.m. Monday-Saturday, and until 3 p.m. on Sunday.