Very Peri was awarded as the 2022 Pantone color of the year.
"The Pantone Color of the Year reflects what is taking place in our global culture, expressing what people are looking for that colour can hope to answer." says Laurie Pressman, Vice President of the Pantone Color Institute.
PANTONE 17-3938 Very Peri places the future ahead in a new light. It displays a carefree sense of both confidence and curiosity. It allows us to look into the future in a new light, serving as a symbol of light. It allows us to gain hope, as we enter this new year and phase in our lives.
After a long period of isolation, we have shifted the way we look at things. Our physical and digital lives have merged, creating color trends in a vast range of online presences. This color signifies the fusion of our modern lives and the digital and physical worlds.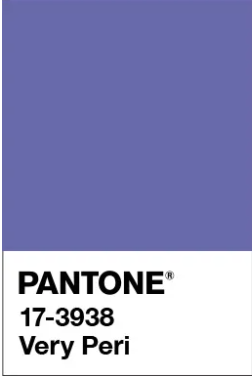 Very Peri aims to exude a joyous, and spirited attitude, ready to foster creativity and imagination.This is the first time that a new color was created. It is a symbol of the global digital innovations taking place. the complexity of this new red violet infused blue hue showcases the society's views of colour as a critical part of communications.