An enormous great white shark was tracked just off the coast of Florida recently.
According to OCEARCH, an organization that tracks sharks, little "Maple" weighs around 1,200 pounds and measures 11 feet and 7 inches.
Though Maple's dimensions may be surprising to some, the Smithsonian states that average female great whites are larger than average males and grow to be 16 feet long, while males usually only grow until they reach 13 feet. The great white was named after an element on Canada's flag, the well-known maple leaf. She has a visible wound on the left side of her body, which experts believe to be from another shark trying to show its dominance.
According to OCEARCH's Facebook post, the great white was found on Monday southeast of St. George's Island. First being tagged in Canada in 2021, Maple had been roaming the waters of the Gulf of Mexico and around the East Coast before making her way to Florida, as OCEARCH's tracking data highlights.
Other great whites have been spotted near the Florida area, with a 715 lb. male named Tancook by OCEARCH having been found off the coast of Jacksonville on Tuesday and a 12-foot great white being spotted in the Florida Keys and later tracked off the coast of Naples, according to OCEARCH's conversation with CBS Miami. According to NOAA, great white sharks are also most likely to be found around the area from Alaska to California, Hawaii, and Mexico.
"It's very important for people who visit Florida waters to be aware of their surroundings, understand the relative risks, and be educated on various shark issues such as behavior, biology and fisheries," said Brent Winner, a scientist for the FWC.
Travelers may have their eyes set on Florida for spring break and summer, but so do sharks. According to the Florida Fish and Wildlife Conservation Commission (FWC), sharks can be found closest to the shore between the months of April and October.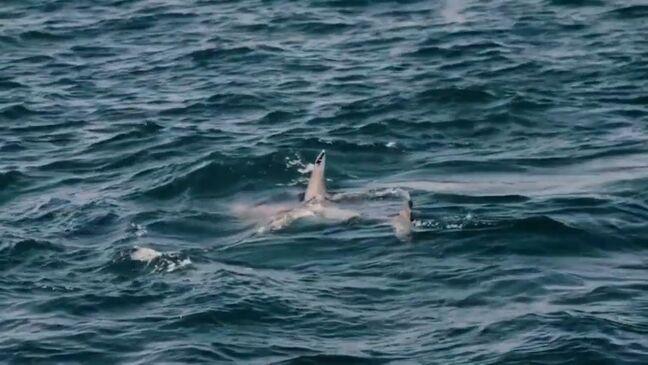 Although this may sound scary to many shark-fearing Florida tourists, the FWC actually explains that sharks should be scared of us. Less than 10 people are killed by sharks every year, while fisheries murder around 100 million sharks a year. In Florida, 99% of shark attacks do not end in fatalities for beachgoers.